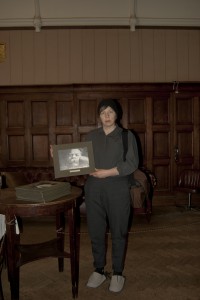 Stage Work
2015    The Knowledge.
2014   Gorkij Park 2.
2012   The Academy.
2011   This is not a love story.
2011    The Assignments.
2009    Alaska.
2009    Five Year Plan
2008   Everything you want.
2007   Potato Country
2007   Everest.
2005   Åtjärn Stories.
2005   England.
2003   Dogma Dance 1&2
2002   Catherine the Great.
2002   The Ocean is Blue
Shortfilms:
2014   We are different now
2009    This is Alaska.
2007     What you do.
2004   The Lodge
2003   Henrik Vikman talking
2003    Rewind
Education
1986-88         Radio/Film Studies  Nordens Folkhögskola
1991-92         Studies for Anna Halprin, San Fransisco Dancers         Workshop
1995-98         Choreography Studies. University of Dance, Stockholm
After studies for Anna Halprin at the Tamalpa Institute in San Francisco, USA and the program of choreography at the University of Dance in Stockholm 95-98 has created performances and movies with great success for both adult and children audience. Heilborns' unique way of combining text, motion, video and images, always spiced with humor and a cool irony, has given her an indisputable position as one of Sweden's most interesting performance and film artists.
Gunilla Heilborns' creation for her own ensemble "The Five Year Plan" opened to rave reviews at NorrlandsOperan in Umeå, Sweden Oct 1st 2009 and was performed in Stockholm at the venue C/O at Stockholm City Theatre. Her piece "Potato Country" premiered at Dansens Hus in Stockholm, Sweden in 2007. The piece was restaged for two performance periods in Stockholm, first at Kulturhuset in March 2009 and later on at the Park Theatre in August 2009 (for more than 3,000 spectators). The piece has been invited and performed in venues in Belarus, Finland, Germany, Austria and the United States.
In the spring of 2009 Heilborn collaborated with the Göteborg Ballet for the first time, creating the critically acclaimed "Alaska". 2011 she returned to Göteborg, but this time to The Göteborg City Theater. She created a new piece for the Big Stage, Uppgifterna, which premiered in October 2011.
This is not a love story premiered at Dansens Hus in Stockholm May 6th 2011 to rave reviews and was produced in co-production with NXT-Step, Göteborg Dance and Theater Festival, Dansens Hus in Stockholm and NorrlandsOperan in Umeå. It is currently touring nationally and internationally.
In the autumn of 2012 , The Academy premiered on the main stage at Dansens Hus in Stockholm. This was a MODUL Project.
During the spring 2014 a new piece, Gorkij Park 2 will premiere at the Gothenburg Dance & Theatre Festival.
The films are created together with filmmaker Mårten Nilsson and often with the same dancers as in the stagepieces.
"The Lodge" (nominated for Best Screen Choreography at Dance Screen Brighton 2005 and nominated for the Swedish Guldbagge Award for best short film in Sweden 2005) and "Rewind" (nominated for best short film at the Guldbagge Awards in Sweden, 2003). "What you do", created together with Mårten Nilsson and Kim Hiorthøy, was awarded the Guldbagge Award for best short film in 2007. And the latest film "This is Alaska", originally created for the stagepiece "Alaska" is now touring shortfilmfestivals around the world.